Linear and 2D barcode Software for Packaging, Supply & Distribution Industry
Professional and easy to barcode label creator software is useful to design and create bulk barcode labels useful for Packaging Supply and Distribution Industry barcode label designing needs. Technically advanced barcode software supports all major 2d and Linear barcode font's symbologies for fulfilling packaging supply and distribution industry labeling needs.
No need to take expert advice from professional to design packaging supply and distribution industry barcode labels. Highest standard software provides easiest methodology to generate best quality barcodes labels in variant shape and size.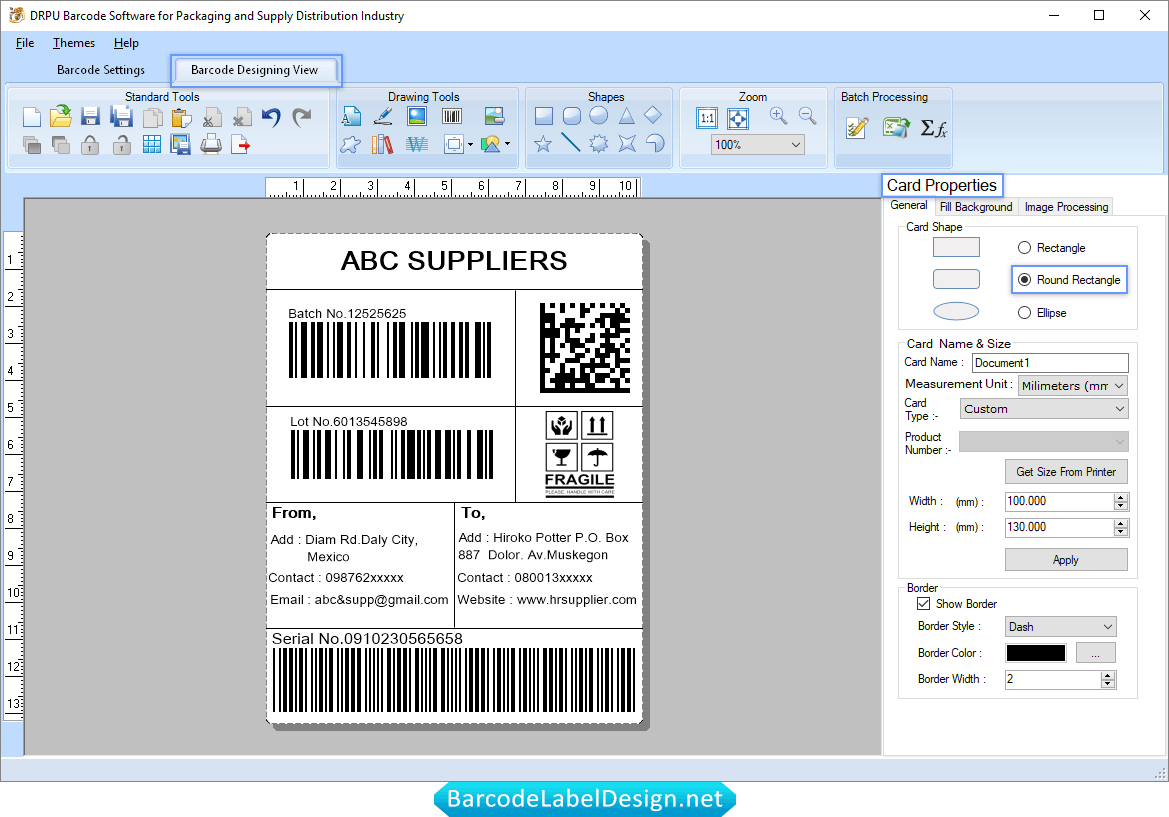 Choose card shape, enter card name, size, and set other properties of card including background, image processing, and border to create barcode label.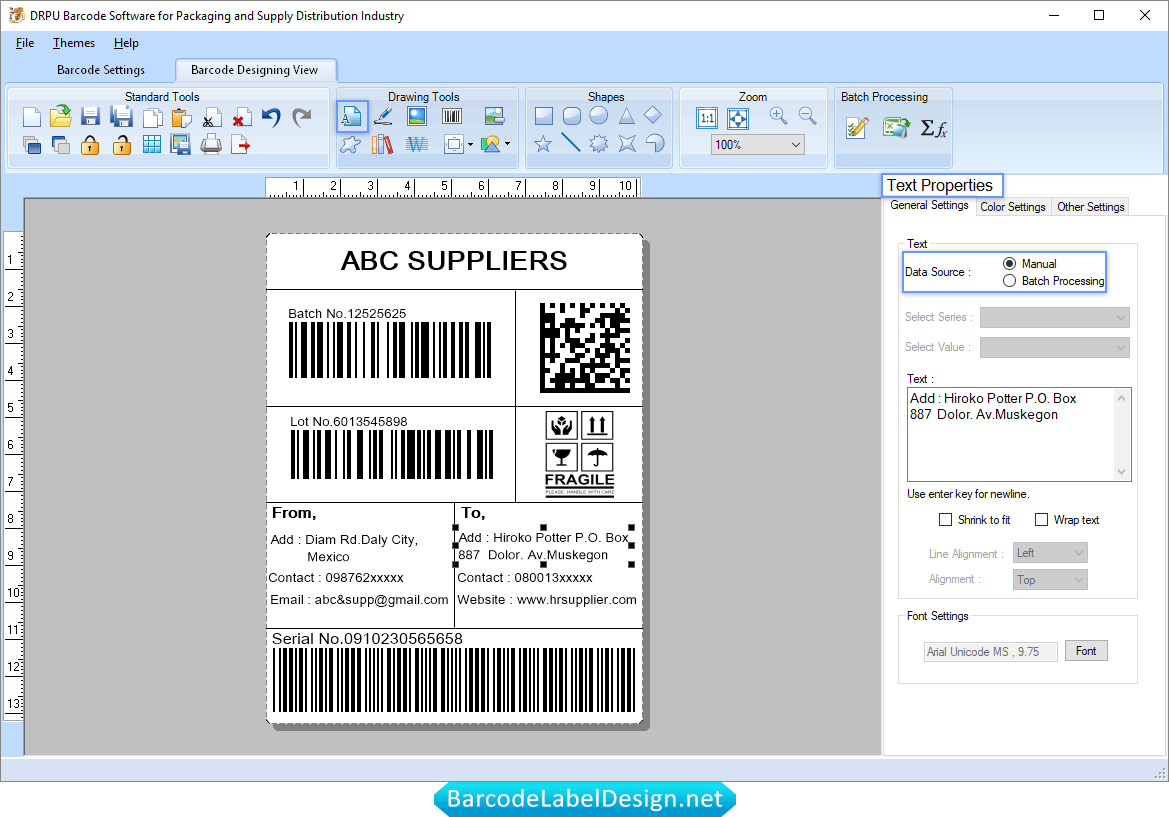 To add text on your label, click on text icon from drawing tools and type your text.
You can also set other properties of text such as font settings, color settings and other settings.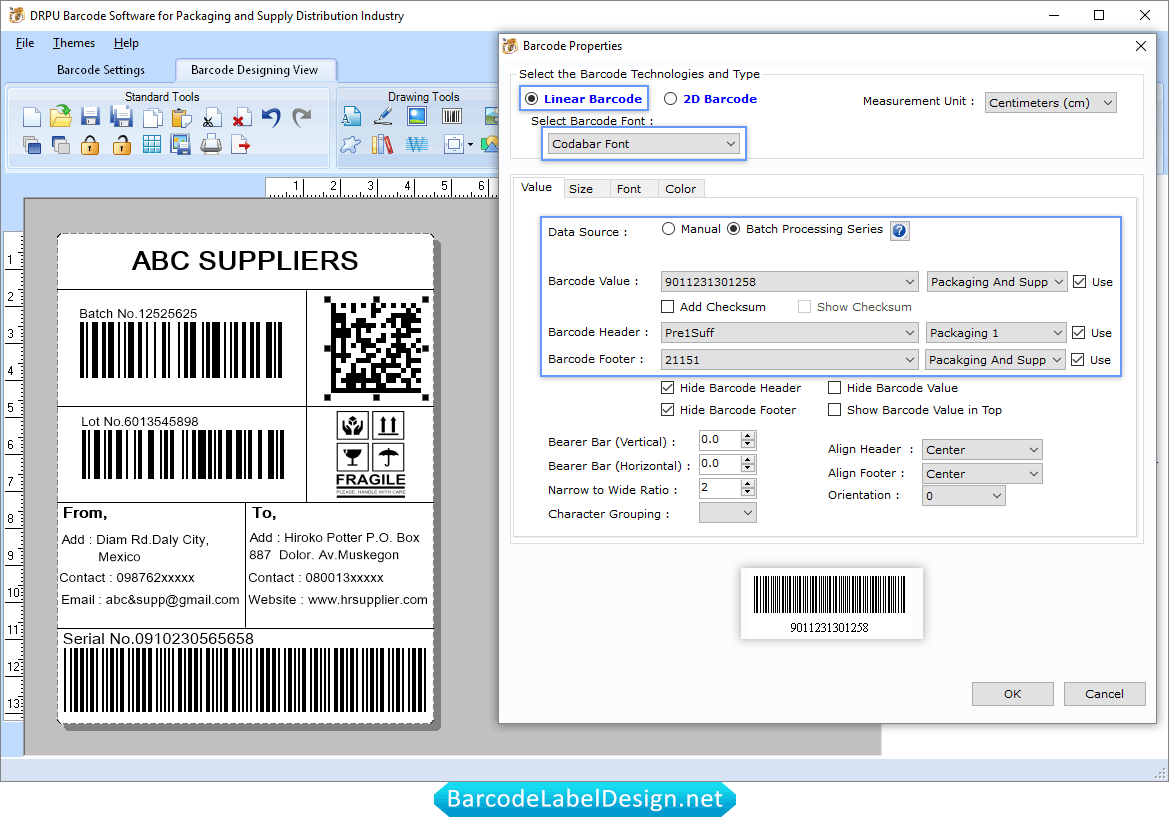 Add barcode on label by clicking on barcode icon from drawing tools and double click on barcode to set its properties. Select barcode technologies and type.
Enter barcode value, header, footer, and set other properties of barcode label such as font, size, and color.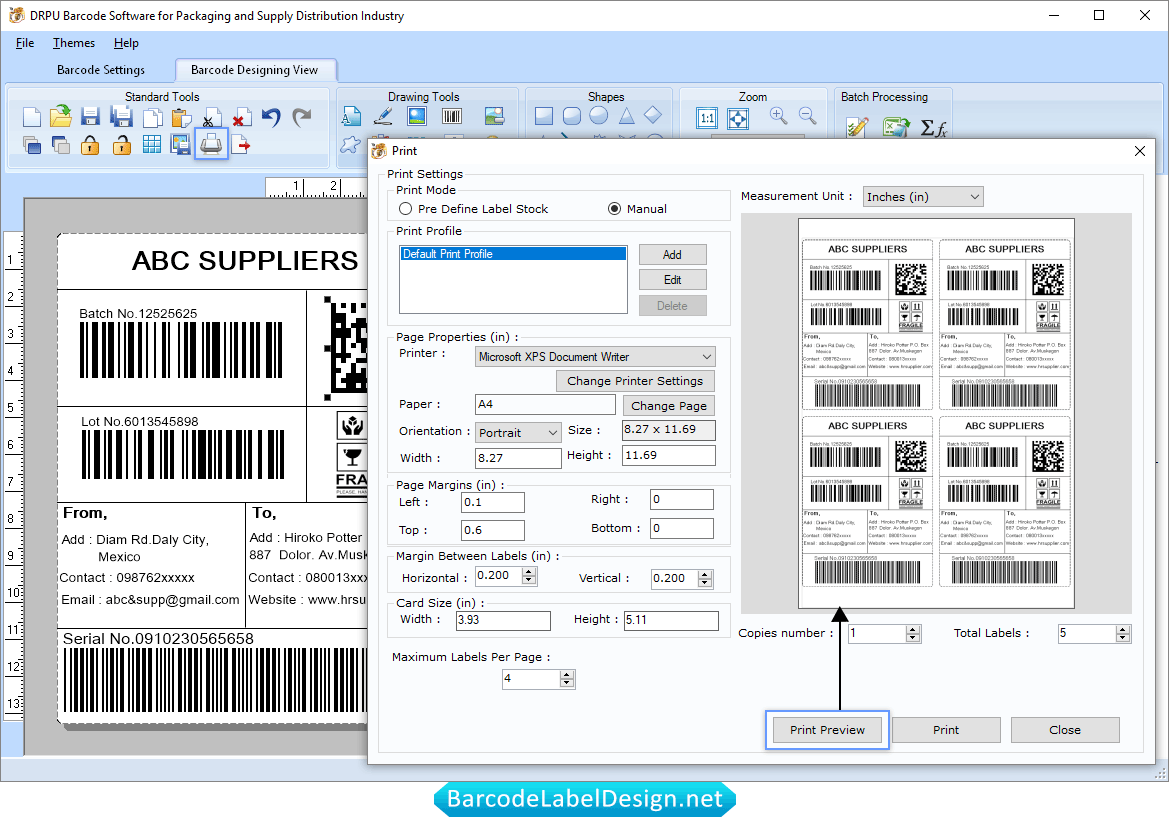 To print your barcode labels, set print settings and click on Print option.
Where barcode generator software is useful in Packaging supply industry
Food packaging supply
Retail packaging supply
Cosmetic packaging supply
Jewellery packaging supply
Custom packaging supply
Gift packaging supply
Packaging supply chain and more…
Where barcodes generator software is useful in Distribution Industry
Food distribution industry
Energy distribution industry
Wholesale distribution industry and more…
Barcode software features
Barcode creator software design and create custom barcode labels in various shape and size.
Generate Barcode List using Sequential Series, Constant Value Series and Random Series options.
Label maker software design and create Barcode Labels with ever popular graphic objects including Texts, Ellipse, Pencil, Rectangle, Text, Barcode, Picture.
Advance option to set barcode Bar Height, Density with Margin details while creating barcode images.
Option to save generated barcode images in different file formats on your PC.
Label printing software create and print colorful Barcode Labels with advance Color Settings.
Generate the multiple copies of labels with different barcode and text value in Barcode Designing View.
Supported Barcode Fonts
Linear Barcode Fonts
Codabar Font, Code 128 Font, Code 128 SET A Font, Code 128 SET B Font, Code 128 SET C Font, Code 39 Font, Code 93 Font, Code39 Full ASCII Font, EAN13 Font, EAN8 Font, Industrial 2 of 5 Font, Interleaved 2 of 5 Font, ITF-14 Font, LOGMARS Font, UCC/EAN-128 Font, UPCA Font, UPCE Font, USS-93 Font
2D Barcode Fonts
Aztec Font, Databar Font, Databar Expanded Font, DataMatrix Font, MaxiCode Font, PDF417 Font, QR Code Font