Linear and 2D barcode Software for Post Office and Bank
Barcode label maker software to design best quality barcode labels for Postal department to deliver mail and similarly helps Bank industries to manage banking documents with use of popularly used Linear and 2D barcode fonts. Best featured and easy to activate Post Office and Bank Barcode Software provides simplified steps to make post office and bank industry appropriate barcode images in few easy mouse clicks on your PC.
The use of barcodes technology will certainly improve performance in maintaining bulk of postal documents (including letters, speed post, parcels) with ease and similarly provide best help for banking sector for easy process management (including Demand Draft, Cheque, Passbook, Bank Statement), without any external help required.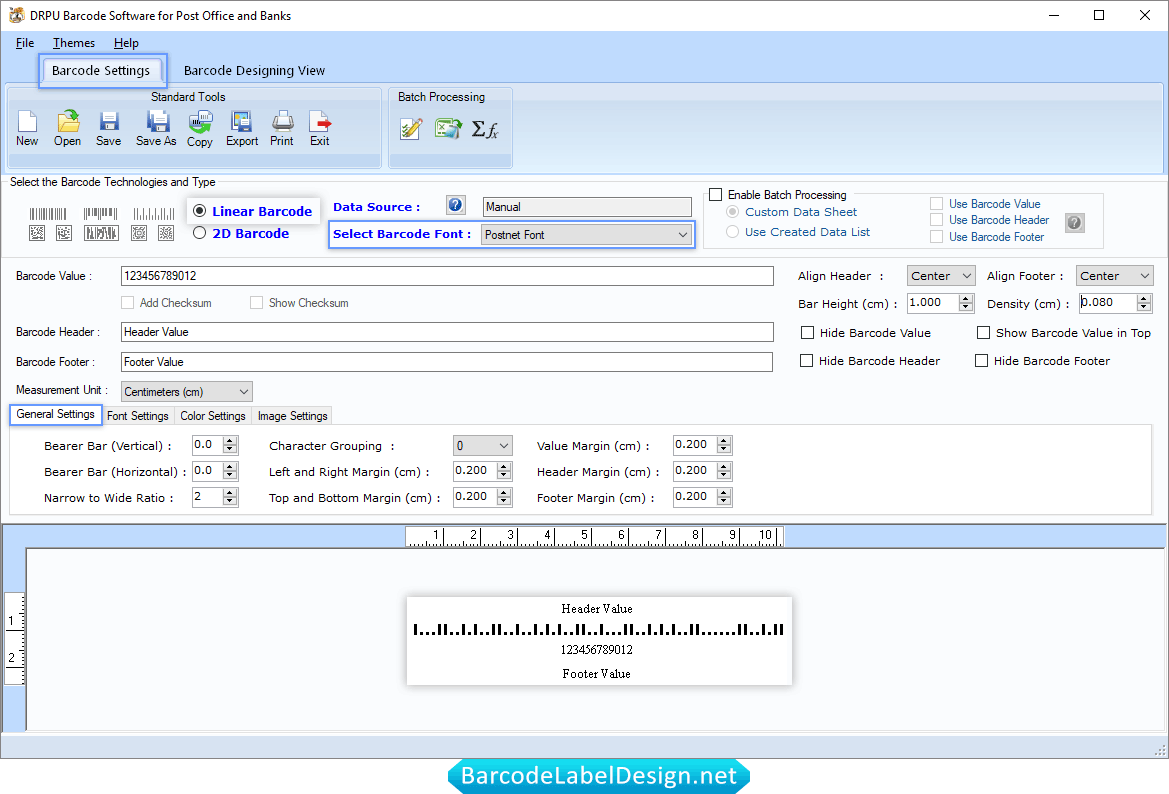 Choose barcode technologies and type. Enter barcode value, header, and footer. In general settings set Bearer Bar, Narrow to wide ratio,
character grouping, and margin. You can also set other settings of barcode label such as font settings, color settings, and image settings.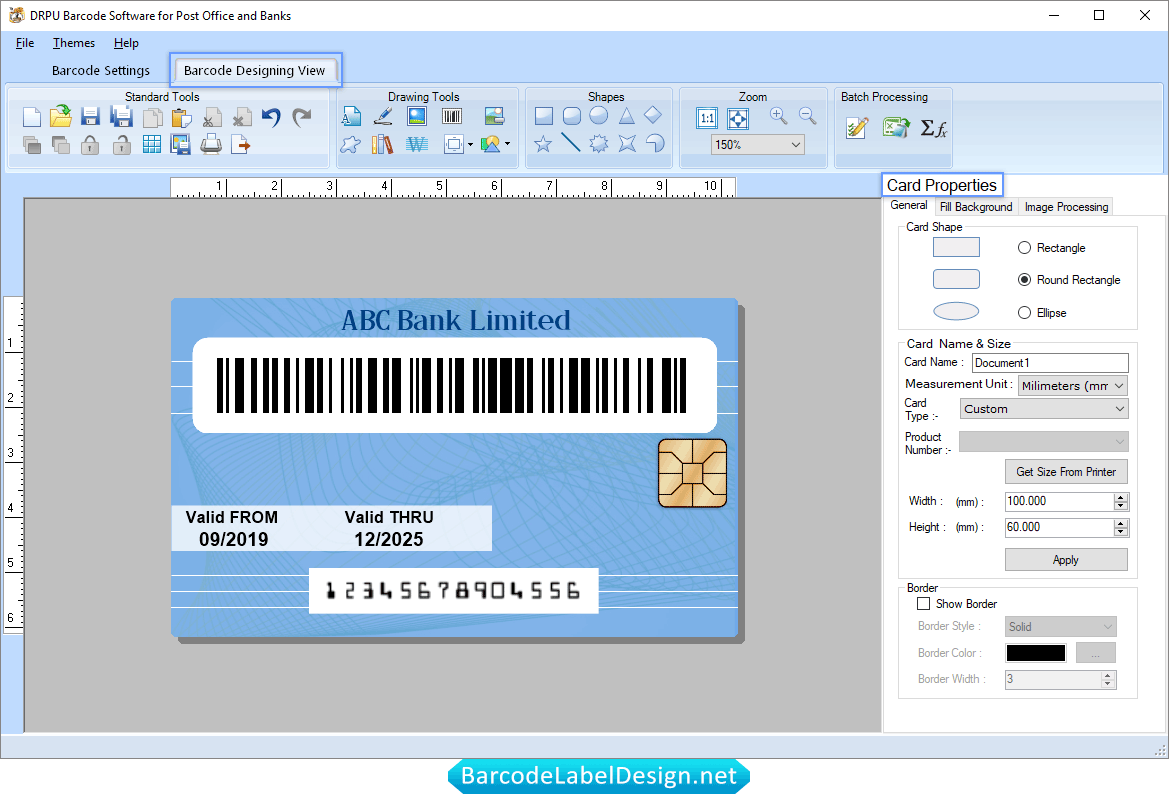 Card using Drawing Tools and change the Card Properties according to the needs.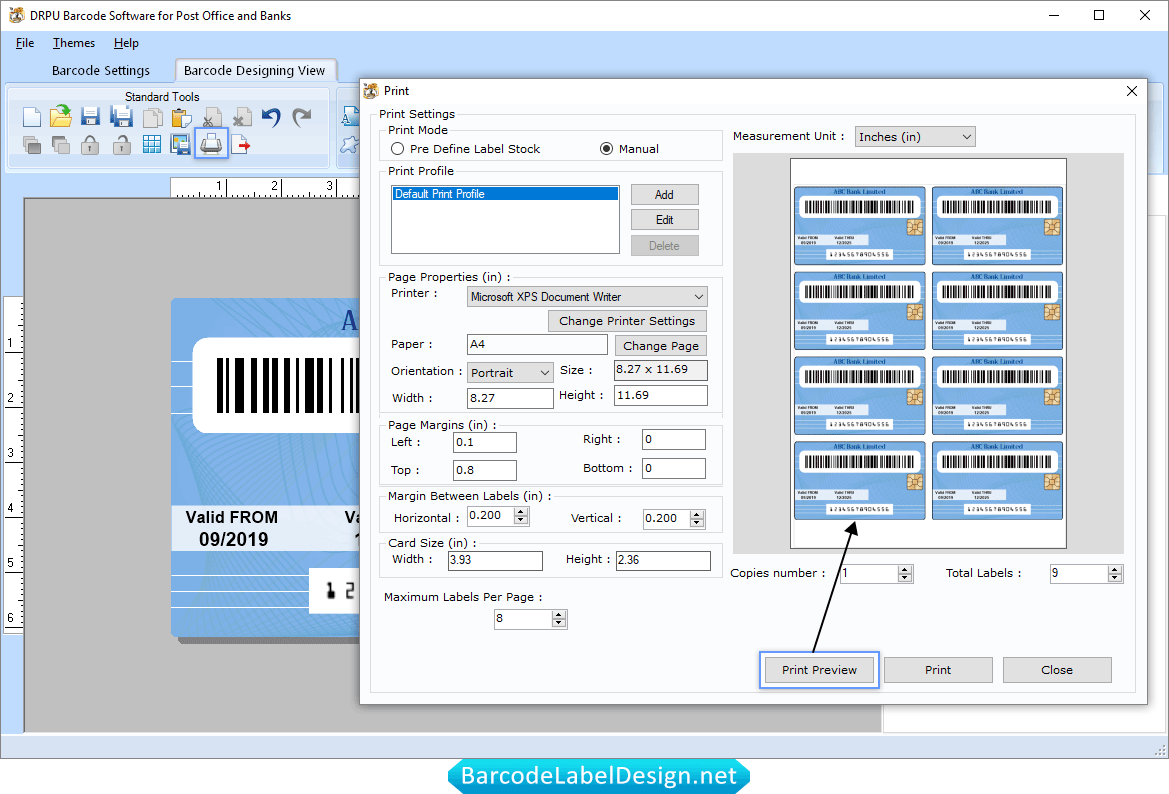 To print designed barcode label press print icon from tool bar, choose print mode (Pre Define Label Stock or Manual).
Best features of barcode software
Barcode generator software generate best quality barcode labels without any efforts.
Barcode creator software design and create custom barcode labels in various shape and size.
Generate Barcode Labels using Linear and 2D barcode font standards.
Generate Barcode List using Sequential Series, Constant Value Series and Random Series options.
Advance option to set Bar Height and Density with Margin details while creating barcode images.
Save Barcode images in different file formats including JPEG, TIFF, BMP, PNG, WMF, EMF, EXIF and GIF.
Provide option to create and print colored Barcode Labels with advance Color Settings.
Design and create Barcode Labels with Texts, Ellipse, Pencil, Rectangle, Text, Barcode, Picture and other similar graphic objects using advance Barcode Designing View.
Generate the multiple copies of labels with different barcode and text value in Barcode Designing View.
Supported Barcode Fonts
Linear Barcode Fonts
Code 11 Font, Code 128 Font, Code 128 SET A Font, Code 128 SET B Font, Code 128 SET C Font, Code 39 Font, Code 93 Font, Code39 Full ASCII Font, ITF-14 Font, LOGMARS Font, Planet Font, Postnet Font, USPS Sack Label Font, USPS Tray Label Font, USS-93 Font
2D Barcode Fonts
MaxiCode Font, MICR Font